Church 4051 N. 25th St.  l  Parish Office 4060 N. 26th St.  l  Milwaukee, WI 53209  l  (414) 444-5610  l  (414) 444-5709 Fax
Mass Sunday 8:00 a.m. and 10:30 a.m.  l  Confessions Sunday 9:15-10:10 a.m.  l  8:30 a.m. Monday, Tuesday, Thursday, Friday in the Eucharistic Chapel
Parish Brainstorming Session
Saturday, March 7
10:00 a.m. to 12:00 noon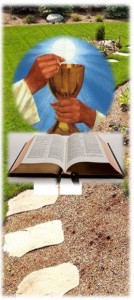 All Saints Catholic Church  Invites You To Take
A Biblical Walk Through the Mass:
Understanding What We Say and Do in the Liturgy
 Workshop Event
Saturday, June 4, 2016
8:30 am – 9:00 am
Registration & Continental Breakfast
9:00 am- 3:00 pm/Program
Lunch Included
Video by Dr. Edward Sri
Workshop Facilitator-
Fr. Robert Stiefvater, Pastor
All Saints Catholic Church. We know all the gestures.
But do we know what it all means?
In A Biblical Walk Through the Mass, Dr. Edward Sri takes us on a unique tour of the Liturgy. Based on the revised translation of the Mass, this video explores the biblical roots of the words and gestures we experience in the Liturgy and explains their profound significance. This intriguing look at the Mass is sure to renew your faith and deepen your devotion to the Eucharist.
Donation:  Only $10.00
Pay at the event
All Saints Catholic Church Hall<
4051 North 25th Street
Please send reservation by Tuesday, May 31, 2016
to Cecilia Smith-Robertson, Faith Formation Director
ceciliasr2@yahoo.com
414.444.5610
All Saints Homilies and Music
All Saints Catholic Church
ALL SAINTS PARISH MISSION STATEMENT
With the help of God, we, the members of all Saints Catholic Church: Commit to celebrate the Death and Resurrection of Jesus in Word and Eucharist. Commit to bring the Good News of Christ to the people of Milwaukee's central city and beyond. Commit to work for justice for the poor and the powerless. Commit to build up and foster a multi-racial, multi-cultural community of faith, hope and love.