Church 4051 N. 25th St.  l  Parish Office 4060 N. 26th St.  l  Milwaukee, WI 53209  l  (414) 444-5610  l  (414) 444-5709 Fax
Mass Sunday 8:00 a.m. and 10:30 a.m.  l  Confessions Sunday 9:15-10:10 a.m.  l  8:30 a.m. Monday, Tuesday, Thursday, Friday in the Eucharistic Chapel
Ash Wednesday Masses - March 1, 8:30 a.m. and 6:30 p.m. with Distribution of Ashes

Free Hot Meal Program Mondays, Tuesdays & Thursdays 5:30-6:30 p.m.  l  Food Pantry Tuesday & Friday Mornings 9:30 a.m.-Noon

February 27, 2017
A reading from the holy Gospel according to Mark
10:17-27
Go, sell what you have, and give to the poor.
As Jesus was setting out on a journey, a man ran up, knelt down before him, and asked him, "Good teacher, what must I do to inherit eternal life?" Jesus answered him, "Why do you call me good? No one is good but God alone. You know the commandments: You shall not kill; you shall not commit adultery; you shall not steal; you shall not bear false witness; you shall not defraud; honor your father and your mother." He replied and said to him, "Teacher, all of these I have observed from my youth." Jesus, looking at him, loved him and said to him, "You are lacking in one thing. Go, sell what you have, and give to the poor and you will have treasure in heaven; then come, follow me." At that statement, his face fell, and he went away sad, for he had many possessions.
Jesus looked around and said to his disciples, "How hard it is for those who have wealth to enter the Kingdom of God!" The disciples were amazed at his words. So Jesus again said to them in reply, "Children, how hard it is to enter the Kingdom of God! It is easier for a camel to pass through the eye of a needle than for one who is rich to enter the Kingdom of God." They were exceedingly astonished and said among themselves, "Then who can be saved?" Jesus looked at them and said, "For men it is impossible, but not for God. All things are possible for God."
The Gospel of the Lord.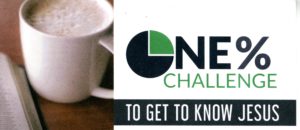 Ask Begin in the name of the Father, and the Son, and the Holy Spirit. Take a moment to be still, and know that Jesus is here. Ask Jesus to help you get to know Him during this prayer time.
Seek Seek to know Jesus by reading the day's scripture passage. Reflect on what Jesus said, what he did, how he interacted with others and how He felt. Speak to Jesus about what it means to you. Ask Him what He wants you to know. Take a few minutes to listen.
Knock Ask for what you need and what others need. Thank Him for being with you today. Close with the Our Father. End in the name of the Father, and the Son and the Holy Spirit.
All Saints Catholic Church
ALL SAINTS PARISH MISSION STATEMENT
With the help of God, we, the members of all Saints Catholic Church commit to celebrate the Death and Resurrection of Jesus in Word and Eucharist; bring the Good News of Christ to the people of Milwaukee's central city and beyond; work for justice for the poor and the powerless;build up and foster a multi-racial, multi-cultural community of faith, hope and love.