Church 4051 N. 25th St.  l  Parish Office 4060 N. 26th St.  l  Milwaukee, WI 53209  l  (414) 444-5610  l  (414) 444-5709 Fax
Mass Sunday 8:00 a.m. and 10:30 a.m.  l  Confessions Sunday 9:15-10:10 a.m.  l  8:30 a.m. Monday, Tuesday, Thursday, Friday in the Eucharistic Chapel
Free Hot Meal Program Mondays, Tuesdays & Thursdays 5:30-6:30 p.m.  l  Food Pantry Tuesday & Friday Mornings 9:30 a.m.-Noon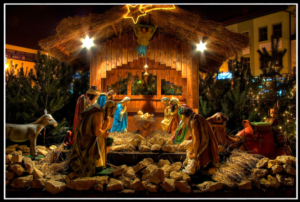 All Saints Parish Office will be closed Friday, December 23 and Monday, December 26 in observance of Christmas. There will be no Food Pantry Friday, December 23 and no Hot Meal Program Monday, December 26.
Our Savior is born.
Let us praise Him with sincerity and gratitude.
We wish you a joyous Christmas celebration!
I am the light of the world. Whoever follows me will never walk in darkness,
but will have the light of life. John 8:12
Events
Hover Over Slide to Pause - Click on Arrows to Scroll Through Events
All Saints Catholic Church
ALL SAINTS PARISH MISSION STATEMENT
With the help of God, we, the members of all Saints Catholic Church commit to celebrate the Death and Resurrection of Jesus in Word and Eucharist; bring the Good News of Christ to the people of Milwaukee's central city and beyond; work for justice for the poor and the powerless;build up and foster a multi-racial, multi-cultural community of faith, hope and love.